Procurement underway for port rebuild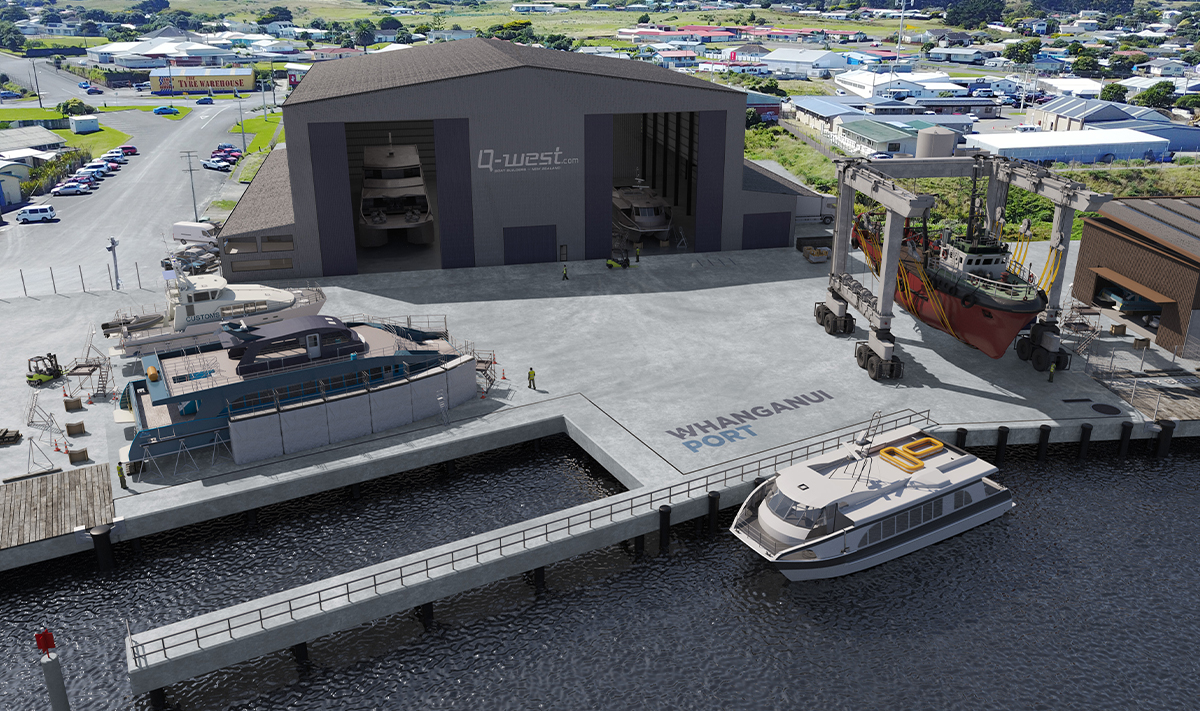 The Whanganui Port Operating Company is calling for parties to come forward to register their interest as procurement documents were released to market last week for the Whanganui Port rebuild, a major construction phase of Te Pūwaha, the Whanganui Port revitalisation project.
The Whanganui Port Operating Company is contracted to manage port assets and deliver Te Pūwaha project works on behalf of The Whanganui Port Limited Partnership.
"This is an exciting milestone for all involved in Te Pūwaha," says Te Pūwaha project director Hayden Turoa.
"The port rebuild will create a lasting platform for significant regional economic growth, and contribute to the increased health and wellbeing of the Whanganui community."
Whanganui Port Limited Partnership Chair Mark Petersen agrees.
"The months of planning are now coming to fruition, as we will soon see businesses undertaking construction on site, many of whom we hope will be locally based, building the initial foundations of what will become a modern marine precinct for Whanganui."
Those who register their interest will have the opportunity to learn more about the project and its requirements at a project briefing in Whanganui followed by a site visit on Thursday 9th February. They will meet with representatives from the Port Operating Company, hapū partners Te Mata Pūau and others from the wider Te Pūwaha project.
The invitation to participate includes the opportunity for the project team to engage with one or more applicants under a framework of 'competitive dialogue' with the intention to test a number of considerations with the applicant companies.
Tenders will then be assessed by an evaluation panel on criteria including experience, relevant skills, capacity and an ability to meet broader community outcomes. They will also be required to commit to an approach that shows an understanding of how to deliver work in line with Te Awa Tupua, upholding the values of Tupua te Kawa.
Hayden Turoa looks forward to sharing the project's values with a new audience.
"This is an opportunity for local businesses to participate in a truly unique and innovative style of delivery for a major infrastructure project," he says.
"For some potential contractors, their understanding of the values of Te Awa Tupua will be relatively new, while others have worked in this space for some time."
"It's important that regardless of their previous experience, that we take the opportunity to work collectively to uphold our responsibilities to Te Awa Tupua, and bring successful tenderers on a journey towards enhancing the health and wellbeing of our awa and community."
"They will receive ongoing leadership and support from iwi to enable them to uphold the values of Te Pūwaha throughout their time working on the project."
The procurement process will occur in two stages, with the first stage calling for invitations to participate from parties that can undertake the works such as the construction of the hardstand and concrete structures suitable for Q-West's 380 tonne capacity mobile boat hoist, along with the development of a water treatment plant to service the site.
"We are looking for contractors who have experience in the marine construction sector, who understand and can deliver specialist infrastructure like the heavy pavement and/or waste management, and have a preference for locally based contractors, who employ or upskill local people, or who have a willingness to source a local workforce," says Port project manager Phil Wardale.
"To make that achievable for potential contractors we are prepared to consider splitting Stage One of the port rebuild into separable portions of work. So, a contractor does not necessarily need to be an expert in all aspects, but they do need to have a willingness and capability to work with others."
"This is a unique project, particularly in its community led approach, so we want to build a relationship with the shortlisted group, and find out more about them and their capabilities before they are asked to participate in the multiple tender processes."
Invitations to participate in the process will close on February 20th, with shortlisted parties invited to tender in early March. Construction is expected to commence in April this year, with the primary stage one hardstand and runways completed as soon as possible to allow the arrival of Q-West's new 380 tonne mobile boat hoist from Italy.
Further dialogue with participating businesses for Stage Two and later works to rebuild the adjoining wharves will then be held in April and May of this year.
For information on the tender process, companies are encouraged to register with the Government Electronic Tenders website (GETS) and search for Whanganui Port, where all documents are available, or where required, contact Hannah Loper at hannah@wardale.co.nz to find out more.