Port project briefing proves popular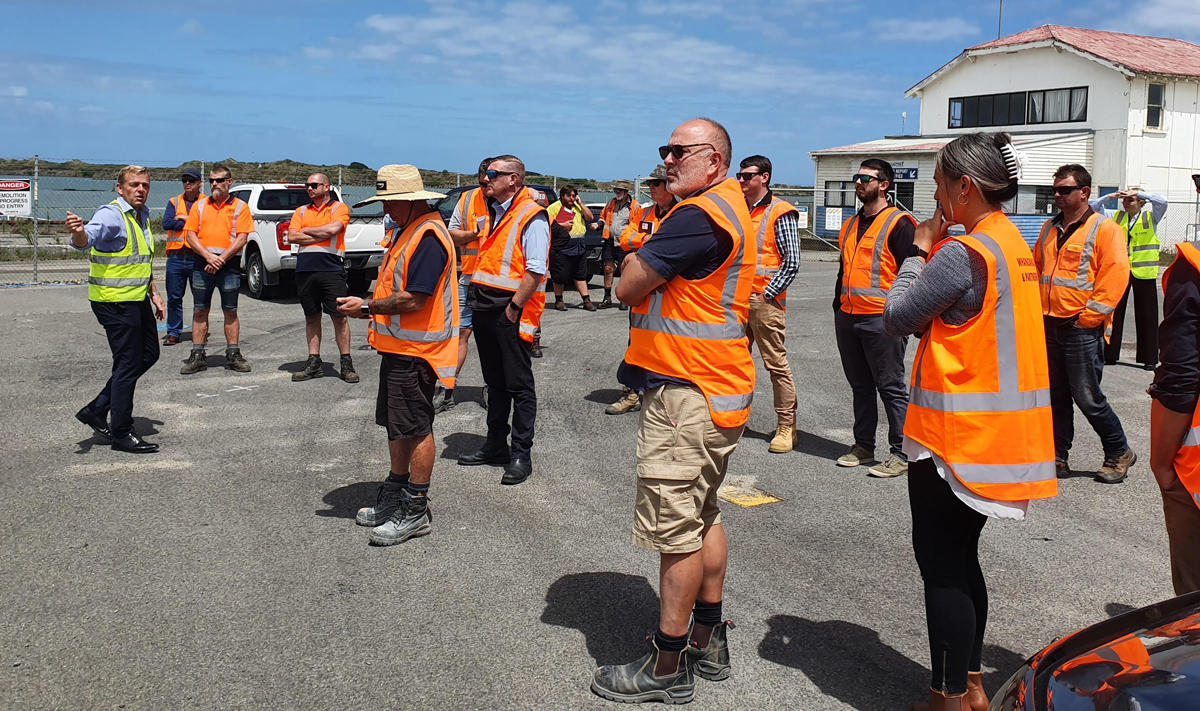 Last week's project briefing for Te Pūwaha, the Whanganui Port revitalisation project, attracted over forty interested contractors and associated businesses, as they grabbed the opportunity to learn more about the planned port rebuild and to see the work site first hand.
Presentations were made by Te Pūwaha project director Hayden Turoa, along with representatives from the Whanganui Port Operating Company, the Port Employment Precinct and Whanganui & Partners.
"It was humbling to see so many interested parties in attendance as this is a major infrastructure project which is so innovative in its approach, it is really exciting for relevant industries and our wider communities."
"What's more, we were able to create an environment for prospective contractors to learn more about our values under Te Awa Tupua, while also providing a space for connections to be made between providers, and with associated services such as the Port Employment Precinct," says Hayden Turoa.
For employment facilitator, the Port Employment Precinct (PEP), the day was invaluable in making connections with local businesses.
"Our role is to get local people into local jobs so it's really important we connect with businesses who could be potentially working on the port rebuild, in that way we can identify training needs and create pathways for employment," says PEP business pathways activator Seletar Taputoro.
"Te Pūwaha has already created 100 jobs since the project's inception, and is expected to create more than 250 jobs within the first three years, directly and through contractors, so we are well on our way."
In the coming weeks, tenders will be assessed by an evaluation panel on criteria including experience, relevant skills, capacity and an ability to meet broader community outcomes. They will also be required to commit to an approach that shows an understanding of how to deliver work in line with Te Awa Tupua, upholding the values of Tupua te Kawa.
"As discussed in our presentation, we are prepared to split Stage One of the port rebuild into separable portions of work, thus making it more attractive for locally based contractors," says Whanganui Port project manager Phil Wardale.
"If anything, last week's session provided some clarity on how this could be done, encouraging local contractors to put themselves forward to actively contribute to this landmark project."
For information on the tender process, companies are encouraged to register with the Government Electronic Tenders website (GETS) and search for Whanganui Port, where all documents are available, or where required, contact Hannah Loper at hannah@wardale.co.nz to find out more.