Caution advised in Whanganui Port basin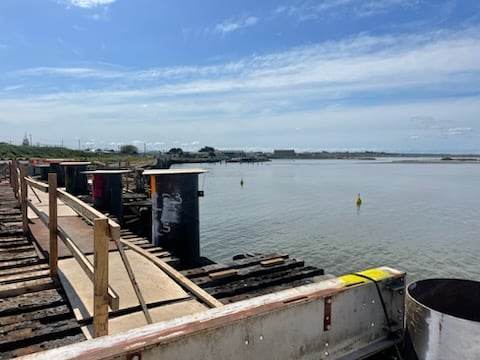 With an increase in construction activity at the Whanganui Port, project director Phil Wardale is asking recreational vessel users transiting through the port basin to take care and proceed with caution. The contractor has made good piling progress over the last few weeks and will now start piling out into the awa from the central wharf area.
The works area is now marked with yellow safety buoys, which are all lit for night guidance. As the works area moves out from the wharves this means that vessels transiting through the Port area are required to divert away from the central wharf area.
"While we realise keeping a wide berth of the construction site is more difficult to do either side of, and during low tides, we are working on interim dredging solutions scheduled for later this month, now that the white bait season has ended."
"By widening the channel, access to and from the Wharf Street boat ramp will improve for all river users, particularly as we move into the warmer summer months when sea fishing and other outdoor recreational activities become more popular."
"The project and our contractors are very conscious of health and safety, and we encourage members of the public using the port basin channel to take care by reducing their speed, and keeping their distance from the construction site," says Phil Wardale.
In addition, signage will also be installed this month to remind paddlers and swimmers to stay clear of the Port wharves, as the existing derelict structures either side of the construction works are very unsafe areas to be in.
"We do apologise for the inconvenience this may cause, and appreciate the patience of recreational boat users in particular."
The Stage One civil construction works within the river are expected to be completed early in the New Year before the contractor starts to work on the land side construction works.