Q-West move to Whanganui Port leads to greater business opportunities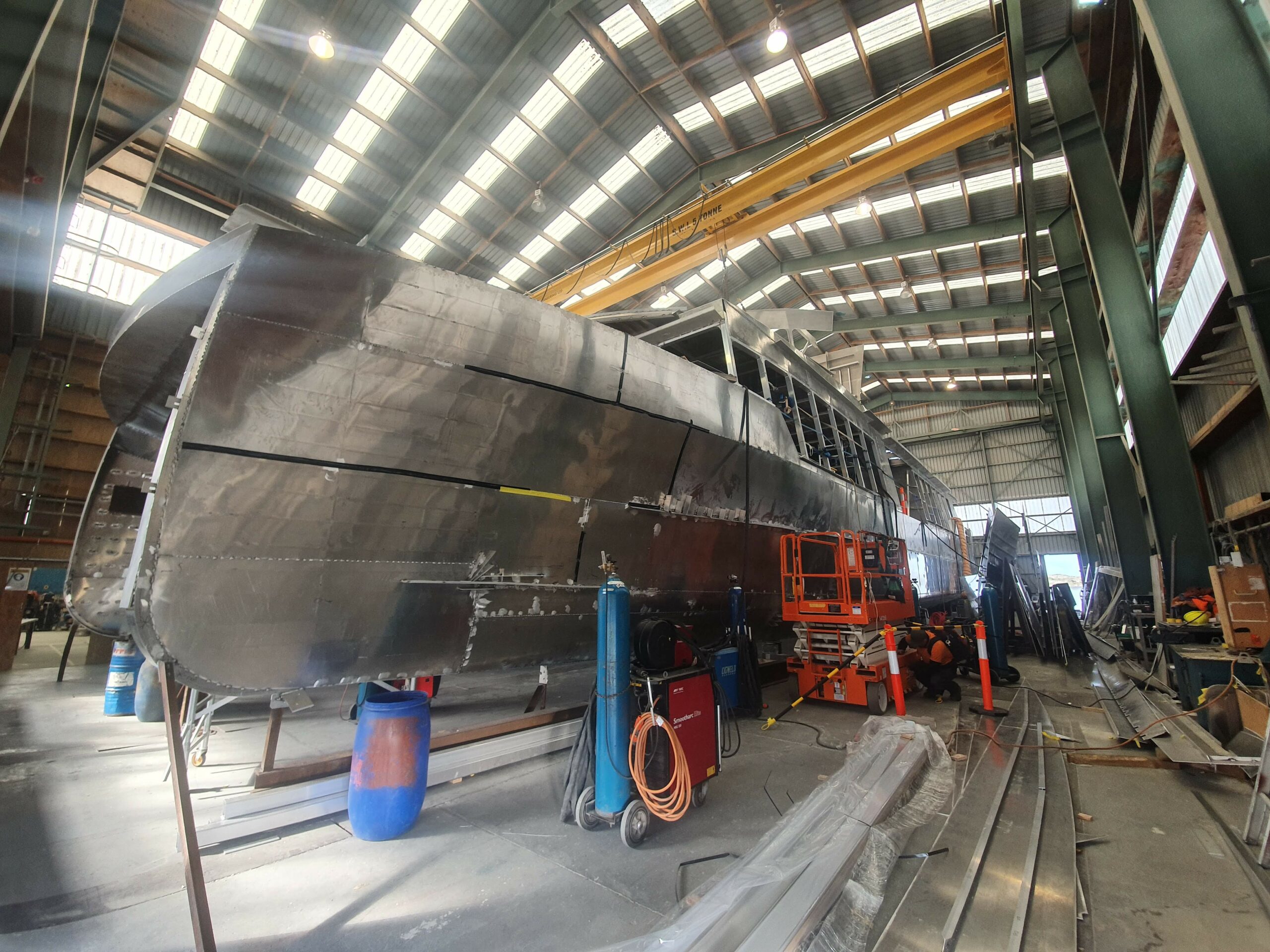 When considering the benefits Te Pūwaha and the revitalisation of Whanganui's Port will bring, it is clear that project partners Q-West Boat Builders stands to gain a lot. They are also putting a huge amount on the line. As project partners, Q-West have agreed to take on a loan of $11 million to move their operation downstream, so they can increase their capabilities and essentially keep their business and their staff in Whanganui.
When Q-West move to the Whanganui Port site, they will have a purpose-built facility, alongside a mobile boat hoist with a 380-tonne lift capacity for new builds, repairs, and maintenance services within the Port.
Since September this year, Whanganui Port have been laying the groundwork for Q-West's move, with work commencing on the construction of a heavy pavement vessel hardstand and concrete structures out over the water. The pavement will be capable of carrying the mobile boat hoist when fully laden at over 550 tonne.
Q-West building New Zealand's first hybrid passenger vessel
The new facilities, when complete, will allow for the first of two Auckland Transport owned ferries to be moved on site in February 2025, in time for the installation of 168 lithium-ion batteries.
Q-West Chief Executive Colin Mitchell explains the necessity for the move to complete the ferry build.
"The lithium-ion batteries make the vessel significantly heavier than a similar sized diesel only vessel, which is why the vessel hoist is integral to this build."
"If we were to install the batteries at the current site, we would be unable to hoist it into the water on our slipway, it just couldn't handle the weight."
Construction on the first F360 300 Auckland Transport ferry began in April last year, with Fullers360 providing contract management support of the builds and ultimately targeting the vessel to set sail in April 2025. It will be the first hybrid passenger vessel in New Zealand.
The two Auckland electric hybrid vessels are part of a project spearheaded by Fullers360 to decarbonise their fleet of ferries. Each vessel is designed to be operated by Fullers360 on the Devonport service but will have capability to service other destinations if required.
The project is a multi-party collaboration between Q-West, Fullers360, Incat Crowther (based in Australia) and HamiltonJet to complete the vessel on behalf of Auckland Transport.
At 34 metres in length, and a width of 9.5 metres, both Auckland Transport ferries will have the capacity to carry 300 passengers.
"These craft are the same size as the three vessels we previously built for Fullers360," says Colin.
"In fact, we had to build an extension on to our shed just to fit the first one in!"
Opportunities abound at new site
The move to the Whanganui Port site will also provide opportunities to employ new staff, with Q-West indicating an additional 30 could be employed, along with an estimated 80 additional roles with neighbouring businesses.
"Boats need to be refitted and maintained, our customers are more than willing to come back to us for this service, however in recent years this has become more difficult with the high silt levels in the river and our inability to lift the boats out."
"We are looking forward to reenergising this part of the business, which will allow for expansion of other businesses in town. It is a huge opportunity for work and growth."
Q-West currently employ 40 staff, with multiple contractors required to fit out a vessel the size of the Auckland Transport ferries.
"We bring in a multitude of external contractors to take on the fabricating and fitting components, plus we have others who pre-build a lot of the modules."
"We are talking about electrical companies, hydraulic manufacturers, interiors, carpet layers, window installers, air conditioning installers, blinds companies, and that's just off the top of my head."
"Many of these are locally based."
Benefits for wider businesses
Castlecliff based metal manufacturers Extol have been subcontracting to Q-West for the past twenty odd years.
With 28 permanent staff, three of which as apprentices, Extol fabricate and provide pre-assembly work for Q-West's fit outs. They currently have two staff permanently based at the Q-West site to work on the first Auckland Transport ferry, with another four working on components at Extol.
Extol Managing Director Geoff Bonner sees Q-West's move to the Whanganui Port as nothing but positive.
"There will be more opportunities, for apprentices to engineers, it's a good project, good for everyone," he says.
"Every Extol apprentice over the years has spent time at Q-West at some stage, it provides them with a different set of skills, so any growth in Q-West offers greater opportunities for Whanganui to produce highly skilled people."
"Q-West have got to be commended for committing to this project, they are investing a huge amount and taking on risk. Myles Fothergill especially has to be commended for investing in his company which will in turn create opportunities for Whanganui."
Busy times ahead
For Colin and his team, taking on new projects at the moment is a real juggling act, with slots being currently sold for 2025.
"These projects are so significant in scale and time, and at the moment we just don't have the space to accommodate more than we are currently undertaking – moving to the Port will change that."